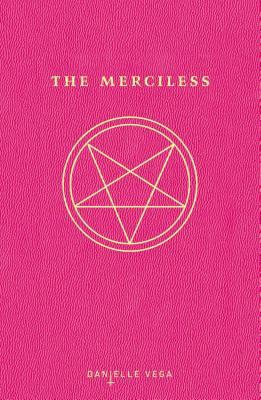 Titel:
The Merciless
Författare:
Danielle Vega
Serie:
-
Sidor:
279
Brooklyn Stevens sits in a pool of her own blood, tied up and gagged. No one outside of these dank basement walls knows she's here. No one can hear her scream.

Sofia Flores knows she shouldn't have gotten involved. When she befriended Riley, Grace, and Alexis on her first day at school, she admired them, with their perfect hair and their good-girl ways. They said they wanted to save Brooklyn. They wanted to help her. Sofia didn't realize they believed Brooklyn was possessed.

Now, Riley and the girls are performing an exorcism on Brooklyn—but their idea of an exorcism is closer to torture than salvation. All Sofia wants is to get out of this house. But there is no way out. Sofia can't go against the other girls...unless she wants to be next.
The Merciless hamnade genast på min att läsa lista så fort jag hörde talas om den. Och när sedan omslaget kom så blev den ännu mer given. Men som så många andra böcker glömdes den lite bort fram tills nu, och
som så många andra gånger känns det lite tråkigt eftersom det visade sig vara en bok jag tyckte riktigt mycket om.
Just när det gäller skräck så tycker jag att det är svårt att prata om handlingen utan att spoila, men vad jag kan säga är att den var definitivt bokens starkaste sida. Så himla obehaglig och full med vidriga scener, vilket både fick mig att bli illamående samtidigt som jag i hemlighet älskar det. Jag var väldigt förtjust i den här känslan att man inte riktigt vet vad som egentligen pågår, och jag absolut avgudade slutet, vilket jag fortfarande inte riktigt har hämtat mig ifrån.
Om handlingen är den starka sidan så är karaktärerna den svaga. Det var egentligen inte så att jag hade några problem med karaktärerna, men det finns ingen särskild utveckling och jag lär aldrig känna dem ordentligt. Jag hade också kunnat vara utan den lilla romansen, vilken jag inte alls såg någon mening med. Sofia var dock väldigt intressant, och många gånger kunde jag inte låta bli att fundera på varför, markera för spoilers -->

hon egentligen aldrig sa till på riktigt, utan mest gick med på allt. Vilket sedan fick sin förklaring i slutet såklart

, spoilers slut. Så snyggt jobbat där Vega.
The Merciless var en enastående skräck bok, och även om jag mest gillade den för handlingens skull, så var det också handlingen som ger den en plats på favorithyllan. Jag kommer definitivt att hålla koll på Danielle Vega i framtiden, och jag ska redan nu kasta mig över hennes nästa bok. Rekommenderas varmt.