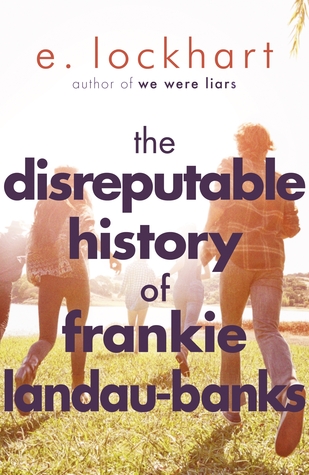 Titel:
The Disreputable History of Frankie Landau-Banks
Författare:
E. Lockhart
Serie:
-
Sidor:
342
Fifteen-year-old Frankie Landau-Banks has grown up a lot over the summer. She's no longer daddy's little girl - and almost immediately after starting the new semester at her highly prestigious school, she bags goofy-but-gorgeous Matthew Livingston as her boyfriend. They get along great but then Frankie discovers that Matthew is a member of a boys-only secret society that specialise in 'hilarious' pranks. Which hardly seems fair... especially when Frankie knows she's smarter than any of its members. And to prove this, she's going to teach them a lesson.

Impersonating lead member Alpha by using a fake email account is surprisingly easy, and soon Frankie is setting the boys up with all sorts of ridiculous schemes and sending them on wild goose chase after wild goose chase. Alpha's not prepared to lose face and admit it's not him sending the emails - but the fun can't last forever, and soon Frankie will have to choose between what she think she wants, and the reputation she deserves.
Jag har tidigare läst The Boyfriend List och We Were Liars av E. Lockhart, och jag tyckte mycket om båda två. När The Disreputable History of Frankie Landau-Banks skulle släppas på svenska så hamnade även den på min att läsa lista, men eftersom Lockharts språk är så fantastiskt så valde jag att läsa den på engelska istället, och det här är vad jag tyckte.
Handlingen var väldigt medryckande och jag har länge varit intresserad av hemliga sällskap. Det gjorde det nästan omöjligt att sluta läsa, och jag kunde inte annat än att imponeras av Frankies uppfinningsrikedom och intelligens. Jag tycker dessutom mycket om det starka feministiska budskap som boken innehåller. Och till sist så måste jag återigen nämna språket, vilket är alldeles enastående och gör boken värd att läsa bara därför.
Av karaktärerna så är det väl egentligen bara Frankie jag gillar, men som jag tycker om henne. Hon är smart, charmig och skoningslös, och jag tycker synd om den som underskattar henne i framtiden. Bi-karaktärerna var däremot inte alls särskilt intressanta och jag föll, förståelsevis, inte för en någon utav dem.
The Disreputable History of Frankie Landau-Banks var, precis som det jag läst innan av Lockhart, en mycket bra bok och jag gillade den verkligen. Rekommenderas varmt.
Favoritcitat:
"It is better to be alone, she figures, than to be with someone who can't see who you are. It is better to lead than to follow. It is better to speak up than stay silent. It is better to open doors than to shut them on people.

She will not be simple and sweet. She will not be what people tell her to be. That Bunny Rabbit is dead."