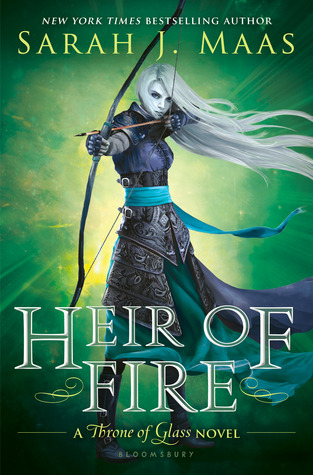 Titel:
Heir of Fire
Författare:
Sarah J. Maas
Serie:
Throne of Glass #3
Sidor:
562
Spoilervarning! Boken ingår i en serie, spoilers från tidigare böcker förekommer.
Lost and broken, Celaena Sardothien's only thought is to avenge the savage death of her dearest friend: as the King of Adarlan's Assassin, she is bound to serve this tyrant, but he will pay for what he did. Any hope Celaena has of destroying the king lies in answers to be found in Wendlyn. Sacrificing his future, Chaol, the Captain of the King's Guard, has sent Celaena there to protect her, but her darkest demons lay in that same place. If she can overcome them, she will be Adarlan's biggest threat – and his own toughest enemy.

While Celaena learns of her true destiny, and the eyes of Erilea are on Wendlyn, a brutal and beastly force is preparing to take to the skies. Will Celaena find the strength not only to win her own battles, but to fight a war that could pit her loyalties to her own people against those she has grown to love?
Det här är en av mina absoluta favoritserier, och jag har längtat så mycket efter Heir of Fire. Mina förväntningar var verkligen skyhöga,
men Heir of Fire levde upp till alla dessa, och det är helt klart en av de bästa böckerna jag läst,
både i år och någonsin.
Efter hur Crown of Midnight slutade så har jag räknat ner dagarna tills Heir of Fire, och handlingen hade liksom allt jag önskade mig. Boken är, även här, uppdelad i två delar, och den första delen är lite mer långsam (även om mycket händer), och den andra delen var full av action. Man får även träffa några nya karaktärer, och boken berättas ur flera olika perspektiv, vilket gör att den är ännu mer omöjlig att lägga ifrån sig. Mycket hinner hända, men det jag gillade mest var att Celaena äntligen hittade sig själv. Slutet var dessutom oerhört spännande, samtidigt som vissa saker krossade mitt hjärta en aning, och jag kan knappt vänta på nästa bok.
Celaena är en sådan fantastisk karaktär, och jag gillar verkligen hur Maas hanterade hennes sorg och vilsenhet. Det kanske kan tyckas lite långdraget för vissa, men jag uppskattar att man får se att det tar tid för henne att bygga upp, och förlåta, sig själv. Hon genomgår en enastående karaktärsutveckling, och jag är så nyfiken på hur det kommer att visa sig i nästa bok.
Chaol var aningen tröttsam i den här boken, och jag önskade att han skulle våga ta ställning någon gång. Han var dock SÅ bra i slutet, och jag förlät typ allt. Dorian däremot, var helt fenomenal i den här boken, och han är nog min nya favorit (men slutet..jag menar, varför?).
Av de nya karaktärerna så älskade jag Manon (hon var så intressant), var aningen tveksam till Aedion (vet fortfarande inte riktigt vart jag har honom), brydde mig inte alls särskilt mycket om Sorscha, och Rowan växte oerhört mycket i mina ögon efter att han slutade vara så dryg (jag älskade vänskapen mellan honom och Celaena framåt slutet).
Jag absolut älskade Heir of Fire, och den är en av mina absoluta favoritböcker. Jag längtar redan tills nästa bok, och det här är en serie jag gärna rekommenderar till precis alla.
Favoritcitat:
"She was the heir of ash and fire, and she would bow to no one."
"As for Celaena," he said again, "you do not have the right to wish she were not what she is. The only thing you have a right to do is decide whether you are her enemy or her friend."
"Witches didn't need blood to survive, but humans didn't need wine, either."