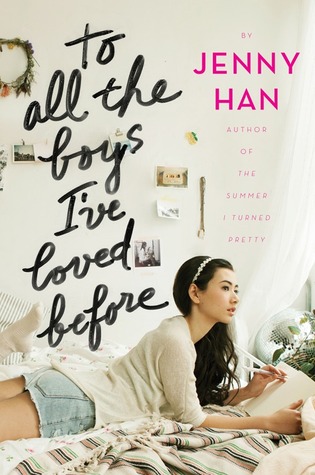 Titel:
To All the Boys I've Loved Before
Författare:
Jenny Han
Serie:
To All the Boys I've Loved Before #1
Sidor:
420
To All the Boys I've Loved Before is the story of Lara Jean, who has never openly admitted her crushes, but instead wrote each boy a letter about how she felt, sealed it, and hid it in a box under her bed. But one day Lara Jean discovers that somehow her secret box of letters has been mailed, causing all her crushes from her past to confront her about the letters: her first kiss, the boy from summer camp, even her sister's ex-boyfriend, Josh. As she learns to deal with her past loves face to face, Lara Jean discovers that something good may come out of these letters after all.
Det här är min första bok av Jenny Han, eller egentligen inte för jag har även läst Burn for Burn, hennes samarbete med
Siobhan
Vivian, så rättelse; Det här är min första bok av bara Jenny Han, och jag måste säga att jag är förvånad. Jag är inte alls intresserad av att läsa hennes Summer trilogi, och därför trodde jag inte alls att jag skulle tycka lika mycket om To All the Boys I've Loved Before som jag faktiskt gjorde.
Handlingen var supercharmig och det låg en sådan mysig känsla över hela boken, jag ville helt enkelt inte att den skulle ta slut. Jag älskade det hela med kärleksbreven som skickats ut, och hur både killarna och Lara Jean reagerade (ett extra plus att man dessutom fick veta vad som stod i breven). Jag gillade hur relationen mellan Lara Jean och Peter startade, och den var både rolig och söt att läsa om. Familjen tar också upp en väldigt stor del av handlingen, något som jag uppskattade mycket, och jag älskade deras relationer och problem.
Lara Jean var aningen naiv för min del, men jag både gillade och frustrerades av henne. Hon var väldigt charmig, men samtidigt önskade jag att hon skulle komma ur sitt skal och våga leva. Jag gillade dock hennes utveckling, och hoppas på mer av den i nästa bok. Jag tyckte väldigt mycket om Margot, Kitty och deras pappa, och både Josh och Chris var härliga karaktärer. Men min favorit i den här boken måste ändå vara Peter, och jag älskade relationen mellan honom och Lara Jean.
Slutet var dock lite sisådär, och jag gillade inte, markera för spoilers -->

att Lara Jean gjorde slut med Peter, eller varför hon gjorde det. Visst kan jag tycka att det är lite dålig stil om inte Peter förnekar att de har haft sex, men samtidigt så tycker jag inte att man måste göra en sådan stor grej utav det. Och självklart är det Genvieve som ligger bakom ryktet till att börja med, så det gör mig irriterad att inte Peter fattar det

, spoilers slut. Dessutom är det en liten cliffhanger känsla över slutet, men det gör bara att jag längtar ännu mer tills nästa bok.
To All the Boys I've Loved Before var en oerhört mysig bok, och jag satt med ett stort leende på läpparna under läsningens gång. Det här är en bok jag mer än gärna rekommenderar, och jag kan knappt vänta på att få läsa nästa bok.