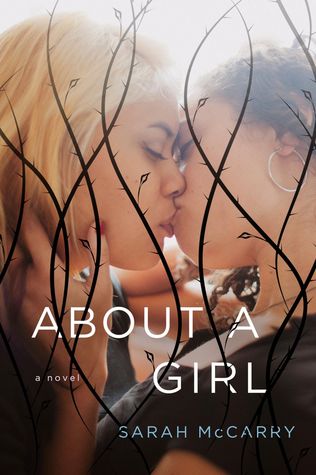 Titel:
About a Girl
Författare:
Sarah McCarry
Serie:
Metamorphoses #3
Sidor:
258
Spoilervarning! Boken ingår i en serie, spoilers från tidigare böcker förekommer

.
Eighteen-year-old Tally is absolutely sure of everything: her genius, the love of her adoptive family, the loyalty of her best friend, Shane, and her future career as a Nobel prize-winning astronomer. There's no room in her tidy world for heartbreak or uncertainty—or the charismatic, troubled mother who abandoned her soon after she was born. But when a sudden discovery upends her fiercely ordered world, Tally sets out on an unexpected quest to seek out the reclusive musician who may hold the key to her past—and instead finds Maddy, an enigmatic and beautiful girl who will unlock the door to her future. The deeper she falls in love with Maddy, the more Tally begins to realize that the universe is bigger—and more complicated—than she ever imagined. Can Tally face the truth about her family—and find her way home in time to save herself from its consequences?
Jag har velat läsa About a Girl sedan jag såg dess fantastiska omslag. Men eftersom det är en serie, trots att böckerna är väldigt fristående, så var jag naturligtvis tvungen att läsa de både föregångarna först. Jag älskade både All Our Pretty Songs och Dirty Wings, så självklart kom den knappt som någon förvåning att jag kände detsamma för About a Girl.

Handlingen är fantastisk, och jag älskar blandningen av contemporary och den gamla grekiska mytologin. About a Girl är ingen direkt re-telling, som de tidigare böckerna varit, men inslagen av mytologin är ändå stora. Men mestadels är det om Tally och hennes väg till att hitta sig själv. Språket är lika underbart som vanligt och jag älskar Tallys vetenskapliga intresse, något som beskrivs väldigt poetiskt här.

Av karaktärerna så älskar jag Tally. Hon var smart, modig och charmig. Jag gillade även Maddy mycket, och deras romans var så jäkla het. Och aningen osund. I övrigt så gillar jag att man får träffa många gamla favoriter, och särskilt Jack tyckte jag att det var intressant att få träffa igen. Men även alla andra med. Ett stort plus också för mångfalden som funnits i den här serien.

About a Girl var en fantastiskt bra bok. Vacker, hjärtskärande och aningen konstig. Allt sådant som jag gillar. Jag trodde aldrig att jag skulle komma att tycka så mycket om serien som jag faktiskt gjort,
men jag är övertygad om att den kommer att illhöra mina favoriter i många år framöver. Rekommenderas varmt.