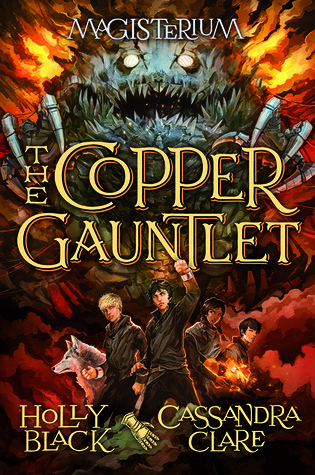 Titel:
The Copper Gauntlet
Författare:
Holly Black & Cassandra Clare
Serie:
Magisterium #2
Sidor:
264
Spoilervarning! Boken ingår i en serie, spoilers från tidigare böcker förekommer.
Callum Hunt's summer break isn't like other kids'. His closest companion is a Chaos-ridden wolf, Havoc. His father suspects him of being secretly evil. And, of course, most kids aren't heading back to the magical world of the Magisterium in the fall.

It's not easy for Call . . . and it gets even harder after he checks out his basement and discovers that his dad might be trying to destroy both him and Havoc.

Call escapes to the Magisterium -- but things only intensify there. The Alkahest -- a copper gauntlet capable of separating certain magicians from their magic -- has been stolen. And in their search to discover the culprit, Call and his friends Aaron and Tamara awaken the attention of some very dangerous foes -- and get closer to an even more dangerous truth.
Jag var väldigt förtjust i första boken i den här serien, The Iron Trial, när jag läste den förra hösten. Men sedan hörde jag att uppföljaren inte skulle vara lika bra, och då tappade jag lite av intresset. Jag önskade mig ändå boken i julklapp, och det dröjde inte många dagar innan suget var så stort att jag var tvungen att plocka upp den. Och ärligt talat så tycker jag att The Copper Gauntlet var riktigt, riktigt bra.
Handlingen kändes lite småseg i början, men eftersom boken ändå är så pass snabbläst så var det inget jag reagerade så där jättemycket på. Och om början var seg, så levde slutet mer än väl upp för det, och de sista 100 sidorna var fulla av action och magi. Jag uppskattar dessutom att vissa hemligheter har kommit fram, och att man slipper gå och vänta på det i nästkommande böcker. I det stora hela så tyckte jag väldigt mycket om handlingen, och jag har givetvis börjat räkna ner dagarna tills nästa boks release.
Av karaktärerna så fortsätter Call att vara min favorit, och jag gillar verkligen hans sarkasm. Även Aaron och Tamara är härliga, och jag gillade till och med Jasper i den här boken. Ser dessutom mycket fram emot hur karaktärerna kommer att utvecklas längre fram i serien.
The Copper Gauntlet var en riktigt bra bok, och den överträffade helt klart mina förväntningar. Jag tycker nog att The Iron Trial var snäppet bättre, men betyget hamnar ändå på 8 / 10 idag med. Rekommenderas gärna.
Favoritcitat:
"I don't know," Call said. He was starting to worry that there weren't any good guys. Just people with longer or shorter Evil Overlord lists."
"The mages wouldn't be happy at all if they knew you were going after him. Master Rufus —"
"Let's kill him," Call said. Havoc growled.
"Master Rufus?" Aaron looked alarmed.
"No, of course not Master Rufus! I meant Jasper," Call said."