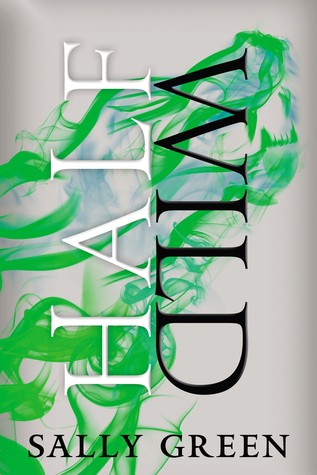 Titel:
Half Wild
Författare:
Sally Green
Serie:
The Half Bad Trilogy #2
Sidor:
399
Spoilervarning! Boken ingår i en serie, spoilers från tidigare böcker förekommer.
In a modern-day England where two warring factions of witches live amongst humans, seventeen-year-old Nathan is an abomination, the illegitimate son of the world's most powerful and violent witch. Nathan is hunted from all sides: nowhere is safe and no one can be trusted. Now, Nathan has come into his own unique magical Gift, and he's on the run--but the Hunters are close behind, and they will stop at nothing until they have captured Nathan and destroyed his father.
Jag gillade verkligen första boken i serien, Half Bad, när jag läste den förra året. Så jag köpte givetvis hem den här uppföljaren ganska så snarast efter dess release, men av en eller annan anledning blev den liggandes oläst i bokhyllan fram till nu. Och även om jag tyckte att Half Bad var snäppet bättre, så var Half Wild ändå en bok jag tyckte riktigt mycket om.

Vad jag gillar mest med handlingen är att den är så mörk. Författaren har inget emot blodiga strider och hemska dödsfall, och det uppskattar jag. Tyvärr tycker jag dock att första halvan var lite för långsam för min smak, och det dröjde på tok för länge innan det blev någon action. Men slutet däremot vägde upp för mycket, och jag absolut älskade det.

Av karaktärerna så gillar jag Nathan. Han är impulsiv, dryg och långt ifrån god. Men vad kan man förvänta sig av hur han har blivit behandlad? Han har dock många bra egenskaper också, och jag kan liksom inte låta bli att tycka om honom. Annaliese däremot har aldrig varit någon favorit hos mig och efter den här boken kan jag bara säga att jag -->

hoppas verkligen att Nathan dödar henne i nästa bok

, spoilers slut. Min favorit är dock Gabriel, och jag shippar honom och Nathan så himla mycket!

Half Wild var riktigt bra, även om början var en liten besvikelse. Jag är väldigt nyfiken på hur allt kommer att sluta, och jag ser så mycket fram emot den avslutande boken som kommer nästa år. Rekommenderas gärna, allra helst till dig som vill ha en huvudkaraktär som inte är allt igenom god.