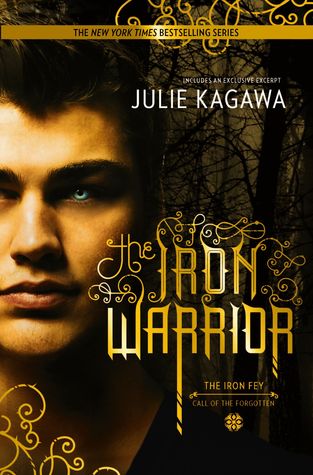 Titel:
The Iron Warrior
Författare:
Julie Kagwa
Serie:
The Iron Fey: Call of the Forgotten #3
Sidor:
330
Spoilervarning! Boken ingår i en serie, spoilers från tidigare böcker förekommer.
The Iron Prince—my nephew—betrayed us all.
He killed me.
Then, I woke up.

Waking after a month on the brink of death, Ethan Chase is stunned to learn that the Veil that conceals the fey from human sight was temporarily torn away. Although humankind's glimpse of the world of Faery lasted just a brief moment, the human world has been cast into chaos, and the emotion and glamour produced by fear and wonder has renewed the tremendous power of the Forgotten Queen. Now, she is at the forefront of an uprising against the courts of Summer and Winter—a reckoning that will have cataclysmic effects on the Nevernever.

Leading the Lady's Forgotten Army is Keirran himself: Ethan's nephew, and the traitor son of the Iron Queen, Meghan Chase.To stop Keirran, Ethan must disobey his sister once again as he and his girlfriend, Kenzie, search for answers long forgotten. In the face of unprecedented evil and unfathomable power, Ethan's enemies must become his allies, and the world of the fey will be changed forevermore.
Jag älskade The Iron Fey serien när den kom ut, men jag var tyvärr inte riktigt lika såld på den här spin-off serien (även om jag tycker att den har varit bra), vilket jag nämnt i mina recensioner av de båda föregående böckerna. Väntan på den här avslutningen har varit på tok för lång, och jag var nästan lite avigt inställd när jag väl påbörjade den. Så döm av min förvåning när det visade sig att jag absolut älskade The Iron Warrior.
Redan i första kapitlet var jag helt fast för boken och den gav mig samma känsla som när jag läste originalserien. Jag älskar Kagawas feer och deras värld. Handlingen var fantastiskt spännande och välskriven, och jag är så glad att äntligen ha återupptäckt magin med den här världen.
Karaktärerna tog också ett stort steg framåt för mig, och jag gillar särskilt hur Ethan äntligen växt upp och lämnar den tjuriga tonåringen bakom sig. Även Kenzie, som jag faktiskt inte varit så förtjust i tidigare, växer mycket och jag upptäcker här att jag faktiskt tycker bra om henne. Man får även träffa många gamla favoriter, och jag älskar Meghan, Ash, Puck, The Big Bad Wolf och Grimalkin. Men det bästa med serien är ändå Razor, och han har haft en stor plats i mitt hjärta sedan första gången jag stötte på honom.
The Iron Warrior var så mycket mer än vad jag först förväntat mig, och jag är väldigt nöjd med hur allt slutade. Det bästa är att den påminde mig om hur mycket jag älskade den här världen när jag först träffade den, och att jag fick bli förälskad i Nevernever igen. Jag är ledsen att behöva säga adjö, men som avslut kunde det inte bli så mycket bättre. Rekommenderas varmt.