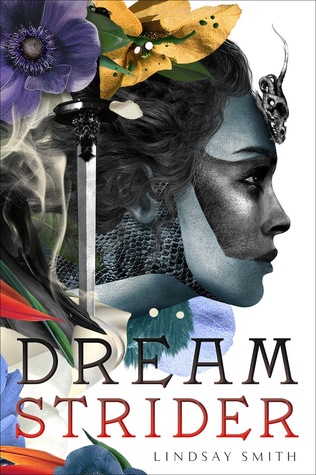 Titel:
Dreamstrider
Författare:
Lindsay Smith
Serie:
-
Sidor:
391
Livia is a dreamstrider. She can inhabit a subject's body while they are sleeping and, for a short time, move around in their skin. She uses her talent to work as a spy for the Barstadt Empire. But her partner, Brandt, has lately become distant, and when Marez comes to join their team from a neighborhing kingdom, he offers Livia the option of a life she had never dared to imagine. Livia knows of no other dreamstriders who have survived the pull of Nightmare. So only she understands the stakes when a plot against the Empire emerges that threatens to consume both the dreaming world and the waking one with misery and rage.
Först och främst så måste jag ju säga något om omslaget, för gud så snyggt det är. Kolla bara. Dreamstrider var dock inte en bok som hade en given plats på min att läsa lista, och det var inte förrän jag såg en av mina favoritbloggares recension på den som intresset väcktes. Så tack för det, Shay. ;) Och härligt nog så tyckte jag väldigt mycket om den här boken.

I början hade jag svårt för att komma in i boken, och få en klar uppfattning om hur världen fungerade. Det blev lite rörigt, så där. Men ju mer jag läste, desto bättre blev det, och jag gillar hur boken fokuserar på drömmar och mardrömmar. Saker som händer oss alla varje natt. Det är dessutom mycket intriger och spioneri och slutet var sjukt spännande. Jag är också särskilt nöjd med att Dreamstrider är en stand alone som kan stå på sina egna ben. Plus att jag uppskattar att det inte fanns någon insta-love, och att romansen inte tog upp någon större del av handlingen.

När det kommer till karaktärerna däremot, så hade jag ganska svårt för Livia. Jag gillar att hon inte är perfekt, utan har sina brister, men samtidigt var hennes brist på självförtroende väldigt frustrerande, och det tog på tok för lång tid innan hon började kämpa och stå upp för sig själv. Jag tyckte dock mycket om hennes utveckling, även om den tog tid, och jag är nöjd med hur hennes historia slutar. Jag var inte eller helt såld på Brandt, men gillade Marez i början. I övrigt så var mina favoriter Edina och Vera, och jag hade gärna sett att de fått ha en större roll i boken.

Dreamstrider började skakigt, men tog sig i slutet. Trots att jag inte föll för karaktärerna, så gillade jag handlingen mycket och därför slutar den upp som en riktigt bra läsupplevelse och en jag lätt kan rekommendera.