Titel:
Dirty Wings
Författare:
Sarah McCarry
Serie:
Metamorphoses #2
Sidor:
255
Spoilervarning! Boken ingår i en serie, spoilers från tidigare böcker förekommer.
A gorgeous retelling of the Persephone myth, Sarah McCarry brings us the story of Cass and Maia--the mothers from All Our Pretty Songs--and how their fates became intertwined.

Maia is a teenage piano prodigy and dutiful daughter, imprisoned in the oppressive silence of her adoptive parents' house like a princess in an ivory tower. Cass is a street rat, witch, and runaway, scraping by with her wits and her knack for a five-fingered discount. When a chance encounter brings the two girls together, an unlikely friendship blossoms that will soon change the course of both their lives. Cass springs Maia from the jail of the only world she's ever known, and Maia's only too happy to make a break for it. But Cass didn't reckon on Jason, the hypnotic blue-eyed rocker who'd capture Maia's heart as soon as Cass set her free--and Cass isn't the only one who's noticed Maia's extraordinary gifts. Is Cass strong enough to battle the ancient evil she's unwittingly awakened--or has she walked into a trap that will destroy everything she cares about? In this time, like in any time, love is a dangerous game.
Efter att ha läst All our Pretty Songs så dröjde det inte länge innan jag plockade upp fortsättningen, Dirty Wings. Det är egentligen mer av en prequel, eftersom den handlar om Cass & Maia, mammorna från AOPS. Precis som med sin föregångare så är den oerhört vacker skriven, och krossar mitt hjärta på mer än ett sätt. Jag älskar Cass & Maia, men hade inget särskilt mycket övers för Jason. Det mest intressanta var nog att jag är rätt säker på vem som var NNs pappa nu. Jag gillade verkligen den här boken, och ser ännu mer fram emot att läsa den sista i serien, About a Girl, ganska så snarast. Rekommenderas varmt.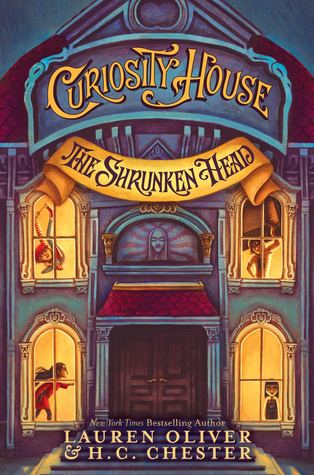 Titel:
The Shrunken Head
Författare:
Lauren Oliver & H.C. Chester
Serie:
The Curiosity House #1
Sidor:
362

Blessed with extraordinary abilities, orphans Philippa, Sam, and Thomas have grown up happily in Dumfrey's Dime Museum of Freaks, Oddities, and Wonders. But when a fourth child, Max, a knife-thrower, joins the group, it sets off an unforgettable chain of events. When the museum's Amazonian shrunken head is stolen, the four are determined to get it back. But their search leads them to a series of murders and an explosive secret about their pasts.
Lauren Olivers böcker är ett måste att läsa på min TBR, så självklart hamnade The Shrunken Head där. En väldigt spännande middle-grade fantasyserie, där jag gillade både mysteriet och karaktärerna mycket. Bilderna är jättefina, och berättelsen var så charmig. Ser redan fram emot uppföljaren, och jag rekommenderar gärna den här boken.