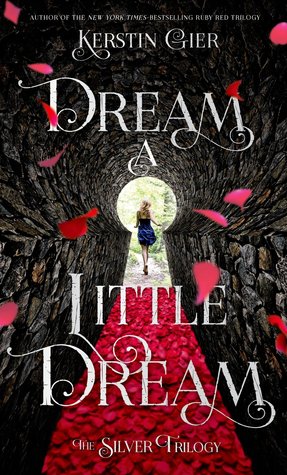 Titel:
Dream a Little Dream
Författare:
Kerstin Gier
Serie:
The Silver Trilogy #1
Sidor:
322
Mysterious doors with lizard-head knobs. Talking stone statues. A crazy girl with a hatchet. Yes, Liv's dreams have been pretty weird lately. Especially the one where she's in a graveyard at night, watching four boys conduct dark magic rituals.

The strangest part is that Liv recognizes the boys in her dream. They're classmates from her new school in London, the school where she's starting over because her mom has moved them to a new country (again). But what's really scaring Liv is that the dream boys seem to know things about her in real life, things they couldn't possibly know--unless they actually are in her dreams? Luckily, Liv never could resist a good mystery, and all four of those boys are pretty cute...
Jag har tidigare läst The Precious Stone Trilogy av Kerstin Gier, och den älskade jag. Så givetvis har jag väntat på mer från henne. Dream a Little Dream låg väldigt högt upp på min att läsa lista i våras, men sedan glömde jag den lite och det slutade med att jag inte plockade upp den förrän nu. Och jag kunde nästan redan från början ångra att jag inte läst den tidigare, för givetvis var den så himla bra.

Handlingen var både spännande och rolig. Jag fascineras särskilt av hur allt i drömvärlden fungerar, och det är ett väldigt bra koncept. Ett stort plus också för den lilla mysteriebiten och blogginläggen från den hemliga skvallerdrottningen (Vilken jag för övrigt tror är antingen Grayson eller Florence. Men mest Grayson). Jag älskade dessutom humorn och relationen mellan Liv och Mia. Slutet var jättebra, och jag såg inte riktigt hela twisten komma. Så plus för det med.

Av karaktärerna så gillade jag de flesta. Liv var fantastiskt härlig och Mia var så charmig. Jag tyckte dessutom mycket om Henry och Grayson, men lite mindre om Arthur och Jasper (även om hans kommentarer fick mig att dö av skratt). Även de övriga bi-karaktärerna hade sin charm, men särskilt Lottie.

Dream a Little Dream fick mig att skratta högt flera gånger, och det ord jag vill använda för att beskriva boken är mysig. Jag gillade den så mycket, och jag ser fram emot uppföljaren som kommer nästa år. Rekommenderas varmt.