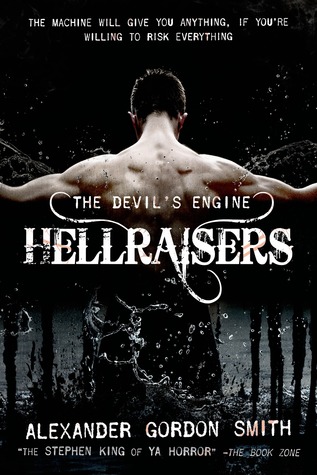 Titel:
Hellraisers
Författare:
Alexander Gordon Smith
Serie:
The Devil's Engine #1
Sidor:
342
The Devil's Engine is a machine from the darkest parts of history. It can make any wish come true—as long as you are willing to put your life on the line. When a sixteen-year-old asthmatic kid named Marlow Green finds himself trapped in a surreal firefight against nightmarish creatures in the middle of his New York City neighborhood, he discovers a squad of secret soldiers dedicated to battling the legions of the Devil himself. Faced with monstrous apparitions, ancient weaponry, and his own hellishly tedious high school existence, Marlow submits to a demonic deal with the infernal device that enables him to join the battle—if it doesn't kill him first.
Alexander Gordon Smith har skrivit en av mina favoritserier, Escape From Furnace, och sedan dess så har jag velat läsa mer av honom. Så när jag såg att Hellraisers skulle släppas så hamnade den givetvis högst upp på önskelistan. Och vad jag tyckte då? Läs vidare så får ni se.
Handlingen var riktigt spännande, och Smith är verkligen en mästare på skräck och spänning. Boken är full av action, monster och obehagligheter. Liksom det jag kommit att förvänta mig av AGS. I övrigt tycker jag inte riktigt att den håller samma klass som Escape From Furnace, men den är fortfarande bra. Och jag har riktigt höga förväntningar på nästa bok.
Av karaktärerna så gillade jag både Marlow och Pan. Men mest Marlow. Jag gillade även bi-karaktärerna Charlie, Night, Truck och Herc. Men samtidigt tycker jag helt klart att handlingen överstiger karaktärerna långt, och därför blir de nästan bokens svagaste sida.
Hellraisers var en riktigt bra bok, kanske inte lika bra som jag först förväntat mig..men potentialen finns där. Spännande och skrämmande, och där jag redan längtar efter nästa bok i serien. Rekommenderas gärna.