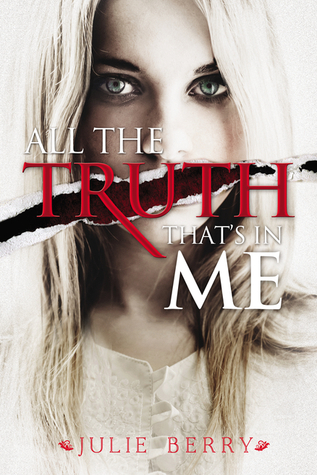 Titel:
All the Truth That's In Me
Författare:
Julie Berry
Serie:
-
Sidor:
274
Four years ago, Judith and her best friend disappeared from their small town of Roswell Station. Two years ago, only Judith returned, permanently mutilated, reviled and ignored by those who were once her friends and family.

Unable to speak, Judith lives like a ghost in her own home, silently pouring out her thoughts to the boy who's owned her heart as long as she can remember—even if he doesn't know it—her childhood friend, Lucas.

But when Roswell Station is attacked, long-buried secrets come to light, and Judith is forced to choose: continue to live in silence, or recover her voice, even if it means changing her world, and the lives around her, forever.
All the Truth That's In Me har funnits på min att läsa lista i sisådär två år. Men av någon anledning så har jag glömt bort att prioritera den. När jag fick den i julklapp blev det dock annat av, och det dröjde inte länge förrän jag plockade upp den. Och även om det var långt ifrån den bok jag trodde att den skulle vara, så tyckte jag ändå så mycket om den.

Så, jag hade förväntat mig en contemporary thriller, men det visar sig att All the Truth That's In Me utspelar sig någon gång långt tillbaka. Vilket årtal nämns aldrig, men jag skulle chansa på 1800-talet kanske? Handlingen var både spännande och hjärtskärande, och berättelsen är lika mycket ett mysterium om vad som faktiskt hänt Judith, som det är en oerhört vacker kärlekshistoria. Dessutom är den väldigt vackert skriven, hoppar mellan nu och då tid, och berättas mestadels i du form till pojken som Judith älskar.

Av karaktärerna så älskade jag Judith, och det var underbart att se henne läka och finna sig själv och sin röst igen. Hon blev så orättvist behandlad, men var ändå så modig och osjälvisk, och jag kunde inte låta bli att falla för henne. Även Lucas var en oerhört fin karaktär, och vänskapen och relationen mellan de båda var så vacker. I övrigt så gillade jag Maria och Darrel mycket.

All the Truth That's In Me var alltså inte alls vad jag först trodde att den skulle vara, men det hindrar mig inte från att tycka om den. En väldigt fin berättelse som kommer att stanna i mitt minne i en lång tid framöver. Rekommenderas.