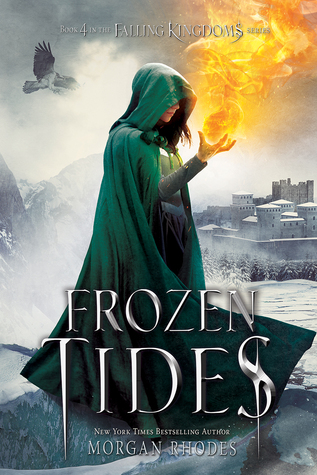 Titel:
Frozen Tides
Författare:
Morgan Rhodes
Serie:
Falling Kingdoms #4
Sidor:
413
Spoilervarning! Boken ingår i en serie, spoilers från tidigare böcker förekommer.
CLEO: Reeling after a bloody showdown in Limeros ending with Amara's abduction of the water crystal, and a vacancy in the Mytican throne, Princess Cleo must cast aside her feelings and look toward her kingdom with the eyes of a Queen.

MAGNUS: With the kingdom in chaos, Princess Lucia still missing and quite possibly in danger, and a shocking realization about Cleo, the steely prince is once again torn between love and duty, leaving him wondering whether he's strong enough to rule his people.

LUCIA: The young sorcercess has had her vengeance after the cruel death of her first and only love. Heartbroken and unable to trust anyone, she allies with the awoken Fire god, who also seeks revenge.

JONAS: After escaping death by the skin of his teeth, the defeated rebel—along with a mysterious stranger–leader reunites with Princess Cleo, only to find himself a mere pawn in a dangerous hunt for the elusive Kindred.

KING GAIUS: Abandoned by Melenia and betrayed by his own children, Gaius flees Mytica and sails to Kraeshia, where he attempts to ally with the famously brutal emperor across the Silver Sea.
Den här serien har bara gått från klarhet till klarhet i mina ögon, och det är därför kanske inte så konstigt att Frozen Tides är min favorit hittills. Den var så enastående bra, och jag kan inte annat än att älska den.

Handlingsmässigt så kanske det inte var den mest innehållsrika boken i serien, och det känns lite som att Rhodes håller på att bygga upp för finalen här. Missförstå mig inte dock, det händer fortfarande en hel del saker. Något av det jag fann mest intressant var delarna i Kraeshia och det var väldigt spännande att få veta mer om det stora imperiet. Även Magnus och Cleos storyline är väldigt spännande, men det kanske även beror på att de är mina favoriter i serien. Slutet var makalöst bra, och jag kan inte förstå att jag måste vänta ända till December på att få reda på hur det ska gå.

Som sagt så är Magnus och Cleo mina favoriter i serien, och även ett av mina största OTPs. Efter det fantastiska slutet i förra boken så blev jag lite trött på att de inte kunde erkänna sina känslor för varandra här, men sen kom slutet och jag bara..dog.. Lucia var nog den jag störde mig mest på i Frozen Tides, samtidigt som jag kan förstå varför hon agerar som hon gör. Men jag ser fram emot att se vilken väg hon kommer att gå i nästa bok. Och Jonas, som jag aldrig har tyckt om, växer faktiskt lite i mina ögon. Jag förstår dock fortfarande inte hur han har kunnat överleva så här länge, men jag ogillar honom inte lika mycket nu. I övrigt så tycker jag att Amara är väldigt fascinerande, även om jag inte direkt tycker om henne så tycker jag att hon är ett intressant tillskott i serien.

Frozen Tides är som sagt min favorit hittills, och jag trodde inte att jag skulle falla så mycket för den här serien som jag gjort. Det är enasåtende fantasy på högsta nivå, och jag längtar nu ihjäl mig efter nästa bok. Rekommenderas varmt.
Favoritcitat:
"Because if you don't choose to fight against the wrong in the world, then you are the wrong in the world."