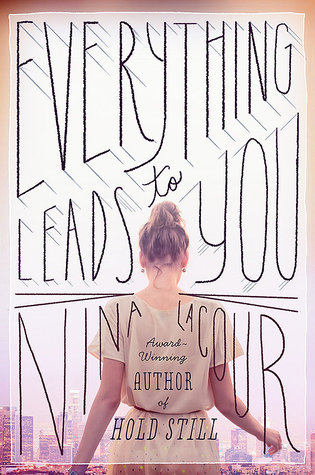 Titel:
Everything Leads to You
Författare:
Nina LaCour
Serie:
-
Sidor:
307
A wunderkind young set designer, Emi has already started to find her way in the competitive Hollywood film world.

Emi is a film buff and a true romantic, but her real-life relationships are a mess. She has desperately gone back to the same girl too many times to mention. But then a mysterious letter from a silver screen legend leads Emi to Ava. Ava is unlike anyone Emi has ever met. She has a tumultuous, not-so-glamorous past, and lives an unconventional life. She's enigmatic…. She's beautiful. And she is about to expand Emi's understanding of family, acceptance, and true romance.
Det första jag måste göra är att berömma omslaget till den här boken. Alltså, bara kolla på det. Jag är helt kär i omslaget.
Och efter att ha sett på Goodreads att Anna gillade boken, så blev jag väldigt intresserad av att läsa den. Vilket jag nu i efterhand är väldigt glad över, eftersom jag absolut älskade den.
Handlingen var både intressant och romantisk, och jag älskade allt som hade med filmproduktionen att göra. Det var superintressant att läsa om allt som en production designer gör, och jag har aldrig funderat över hur mycket ett rum kan säga i en film. Det känns inte helt fel att säga att den här boken har ändrat mitt synsätt på film, och jag kommer i framtiden att lägga betydligt mer uppmärksamhet på bakgrunden och hur den ser ut. Jag var dessutom väldigt förtjust i det lilla mysteriet med brevet från Clyde Jones, och allt det ledde till. Men det bästa med Everything Leads to You var helt klart romansen, och den var bara så himla vacker och äkta.
Emi var en väldigt härlig karaktär, och jag gillade verkligen att hon var så pass duktig på sitt jobb. Hon var smart, och förvånansvärt jordnära för hur jag tänker mig att folk i filmbranschen är. Jag tyckte dessutom om hur hon ibland tänkte i filmscener, och hur mycket hennes jobb hörde samman med hennes personlighet. Jag tyckte även mycket om Ava, och hon var både charmig och fängslande. Jag gillar hur hon fick hitta sig själv, och romansen mellan Emi och Ava var alldeles fantastiskt fin.
Everything Leads to You överraskade mig med hur bra den var, och den kommer självklart att få en plats i min favorithylla. Rekommenderas varmt.
Favoritcitat:
"What's the use in waiting until the right moment if that moment never comes?" I say. "What if the moment escapes you in a split second when your focus was elsewhere?"