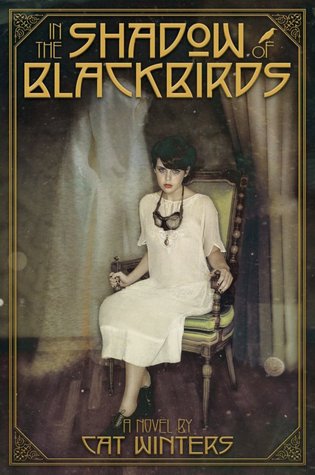 Titel:
In the Shadow of Blackbirds
Författare:
Cat Winters
Serie:
-
Sidor:
387
In 1918, the world seems on the verge of apocalypse. Americans roam the streets in gauze masks to ward off the deadly Spanish influenza, and the government ships young men to the front lines of a brutal war, creating an atmosphere of fear and confusion. Sixteen-year-old Mary Shelley Black watches as desperate mourners flock to séances and spirit photographers for comfort, but she herself has never believed in ghosts. During her bleakest moment, however, she's forced to rethink her entire way of looking at life and death, for her first love returns in spirit form. But what does he want from her?

Featuring haunting archival early-twentieth-century photographs, this is a tense, romantic story set in a past that is eerily like our own time.
Jag har länge velat läsa In the Shadow of Blackbirds, men som så många andra böcker har den fått stått oläst i bokhyllan i cirka ett år. Jag vet faktiskt inte varför jag inte plockat upp den tidigare, men jag är i alla fall glad att den äntligen har blivit läst, för åh, som jag älskade den här boken!
Handlingen är väldigt unik, och jag sögs in i berättelsen redan på första sidan. Boken utspelar sig i slutet av första världskriget, 1918 alltså, och som om inte kriget vore nog, så är det även nu som den spanska influensan härjar. Det är en dyster stämning över boken, och när folk dör som flugor är det inte konstigt att mänskligheten börjar förlora hoppet. Boken innehåller också en paranormal twist med seanser, ande fotograferingar och spöken. Jag gillar dessutom att det inte är helt klart om saker och ting är på riktigt, om allt bara är bluff, eller om Mary Shelley själv är aningen galen, och hela den här berättelsen är fruktansvärt fin. Ett stort plus också till alla fotografier som finns med i boken, det gjorde boken ännu mer minnesvärd i mina ögon.
Mary Shelley är en helt fantastisk karaktär, och jag tyckte så mycket om henne. Om man dessutom tar in vilken tidsperiod hon lever i, så gör det henne ännu mer speciell. Hon är smart, modig, rättfram, och alldeles unik. Det var ett absolut nöje att följa henne, och det var länge sedan en karaktär charmade mig så här mycket. I övrigt så tyckte jag mycket om både Stephen (även om jag önskar att man fick mer tid med honom) och Aunt Eva.
In the Shadow of Blackbirds var kuslig, sorglig, full av både hopp och hopplöshet, och en alldeles enastående läsupplevelse. Cat Winters har definitivt hamnat på min auto buy lista, och jag ser fram emot att läsa mer av henne i framtiden.
Favoritcitat:
"Why can't a girl be smart without it being explained away as a rare supernatural phenomenon?"