Titel:
Tremble
Författare:
Jus Accardo
Serie:
Denazen #3
Sidor:
294
Spoilervarning! Boken ingår i en serie, spoilers från tidigare böcker förekommer.
Dez Cross has problems. She's almost eighteen and on the verge of losing her mind thanks to the drug Denazen used to enhance her abilities. People close to her have turned their back on the underground and are now fighting for the wrong side. And then there's Kale... Things couldn't get any worse.

Until of course, they do. Denazen is about to start a new trial—this one called Domination—and it works. But that means out with the old and in with the new. The order has been given to terminate all remnants of the second trial—including Dez. The good news is that there's a survivor from the original trial. A woman who's blood may hold the cure for the second generation of Supremacy kid's defect. But the underground Sixes aren't the only ones who know about her….

Cross is willing to throw everything he has to keep Dez from getting the cure—including the one thing that might tear her apart from the inside out.
Efter att ha läst Toxic så plockade jag genast upp Tremble, och fann att även om serien inte är lika bra som i den första boken, så gillar jag den ändå.
Handlingen var även här lite sisådär, och det gör mig irriterad att författaren spenderar så mycket tid på att förstöra för sina karaktärer. Det var mer action här än i Toxic, men samtidigt läggs för mycket fokus på relationen mellan Dez och Kale, och jag vill hellre se mer av planerna att förgöra Denazen.
Karaktärerna är bra, jag gillar Dez och jag gillade faktiskt Kales utveckling i den här boken (även om jag var så arg i början).
Tremble är en bra bok, och jag gillar den även om den är långt ifrån en favorit. Dock hoppas jag att fortsättningen kommer snart (vilket den inte verkar göra, då Tremble släpptes i Maj förra året, och jag tror inte ens att författaren skrivit den fjärde boken än. Varför göra en femboksserie om man inte tänker engagera sig??), annars vet jag inte om jag kommer att orka läsa färdigt serien.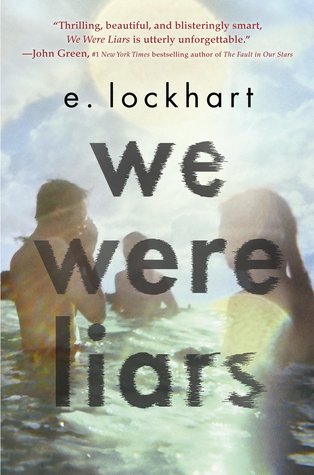 Titel:
We Were Liars
Författare:
E. Lockhart
Serie:
-
Sidor:
225
A beautiful and distinguished family.
A private island.
A brilliant, damaged girl; a passionate, political boy.
A group of four friends—the Liars—whose friendship turns destructive.
A revolution. An accident. A secret.
Lies upon lies.
True love.
The truth.

We Were Liars is a modern, sophisticated suspense novel from National Book Award finalist and Printz Award honoree E. Lockhart.

Read it.
And if anyone asks you how it ends, just LIE.
We Were Liars har varit en väldigt hypad bok, och självklart har jag velat läsa den sedan jag först hörde talas om den.
Den är dock supersvår att recensera, och jag tror att man får ut mest om man vet så lite som möjligt innan man börjar läsa. Vad jag kan säga är att jag älskade handlingen, och absolut avgudade språket. Så poetiskt, och så vackert. Karaktärerna är dessutom väldigt intressanta, även om jag fortfarande är osäker på vad jag tycker om Cadence. I det stora hela så är We Were Liars en helt fantastisk bok, och den enda minuset är att jag listade ut slutet lite för fort (inte alla detaljer dock, men de flesta). Det hindrar mig dock inte från att älska boken, och jag rekommenderar den gärna till precis alla.
Favoritcitat:
"Then he pulled out a handgun and shot me in the chest. I was standing on the lawn and I fell. The bullet hole opened wide and my heart rolled out of my rib cage and down into a flower bed. Blood gushed rhythmically from my open wound,
then from my eyes,
my ears,
my mouth.
It tasted like salt and failure. The bright red shame of being unloved soaked the grass in front of our house, the bricks of the path, the steps of the porch. My heart spasmed among the peonies like a trout."