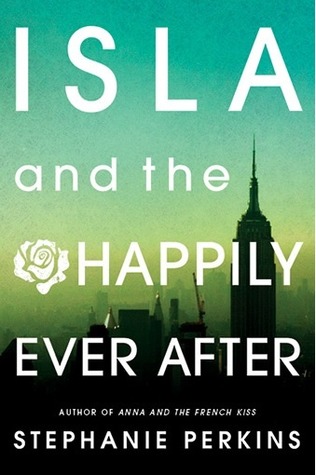 Titel:
Isla and the Happily Ever After
Författare:
Stephanie Perkins
Serie:
Anna and the French Kiss #3
Sidor:
339
Spoilervarning! Boken ingår i en serie, spoilers från tidigare böcker förekommer.
From the glittering streets of Manhattan to the moonlit rooftops of Paris, falling in love is easy for hopeless dreamer Isla and introspective artist Josh. But as they begin their senior year in France, Isla and Josh are quickly forced to confront the heartbreaking reality that happily-ever-afters aren't always forever.

Their romantic journey is skillfully intertwined with those of beloved couples Anna and Étienne and Lola and Cricket, whose paths are destined to collide in a sweeping finale certain to please fans old and new.
Först och främst vill jag bara varna för att lättare spoilers för den här boken förekommer i recensionen. Så läs på egen risk.
Isla and the Happily Ever After kan vara en av de mest efterlängtade böckerna någonsin, och jag har väntat i över två års tid på att äntligen få läsa den. Nu i efterhand känner jag mig både nöjd och aningen besviken. För även om Isla var en riktigt bra bok, så saknade jag ändå lite av Stephanie Perkins vanliga magi.
Efter att ha läst både Anna och Lola, så tycker jag att man är van vid att Perkins böcker är på ett visst sätt. Det finns en växande kärlek mellan två vänner, och den blir inte på riktigt förrän framåt slutet. Därför förvånade det mig mycket när Isla och Josh faktiskt blir tillsammans ganska så tidigt i boken, och jag både gillar och ogillar det. Det är alltid kul att få mer av en relation än just precis i det hoppfulla slutet, men samtidigt tyckte jag att man rånades lite på själva uppbyggnaden utav den. Isla and the Happily Ever After är inte heller en lika hoppfull och lättsam bok som det vi redan är van vid, och jag tror att mycket kan bero på att Perkins själv lider av depressioner. Eftersom jag själv har varit deprimerad sedan tonåren så känner jag igen mycket av mitt beteende och känslor hos både Isla och Josh, och jag kan därför inte låta bli att tro att Stephanie Perkins inspirerats lite av sig själv. Det är dock absolut inget fel med det hela, det är bara det att jag förväntade mig en mer underhållande bok.
Karaktärerna var även lite sisådär, och jag hade särskilt svårt för Isla. Jag gillade henne för det mesta, men jag fann henne också oerhört frustrerande och jag gillade inte alls hennes beteende där efter julfesten. Josh var aningen bättre, även om jag höll med om mycket av det Isla sade till honom när de, markera för spoilers -->

gjorde slut

, spoiler slut. Men trots det så gillade jag deras relation framåt slutet, och jag tycker att dem passar väldigt bra ihop. Min favoritkaraktär i den här boken var Islas bästa kompis, Kurt, och jag önskar nästan att vi kunde få en bok om honom också.
Slutet var det absolut bästa med den här boken, och det var mestadels för att vi äntligen fick träffa de gamla karaktärerna igen. Jag grät glädjetårar när, markera för spoilers -->

Etienne friade till Anna

, spoilers slut, och det gör mig lite ledsen att vi inte fick se ännu mer av dem tillsammans.
Om jag bara ser Isla and the Happily Ever After för sig, så var det en riktigt bra bok. Men om jag jämför den med Anna och Lola, så levde den inte upp till förväntningarna. En mörkare bok än vad jag först förväntat mig, men med ett alldeles perfekt slut.
Favoritcitat:
"We straighten , bu our snickering is barely contained as we attempt to focus our attention on a picture of a discarded Coke can. "This guy's lady love is kind of a slob, don't you think?" he whispers.
I cover my mouth with my hands again.
"A reaaaaaaaal litterbug."
"Stop it," I hiss. My eyes are watering. "Ohmygod look at this one! How did he get her toenail clippings?"
"If you were my girl," he whispers, "I'd take creepy pictures of your trash when I knew you weren't looking."
"If you were my girl," I whisper back," I"d put the creepy pictures in a foreign museum so you wouldn't know that I take creepy pictures."
-
"I'm the last one in the dark, until- suddenly- it happens. St. Clair removes something from his pocket. And then he gets down on one knee.
Anna's entire body lights with shock and joy and love. She nods a vigorous yes. St. Clair places the ring on her finger. He stands, she throws her arms around him, and they kiss. He spins her in a circle. They kiss again. Deep, hungry, long. And then he turns to us and waves- with the biggest smile I've ever seen- clearly aware that we've been standing here the whole time."