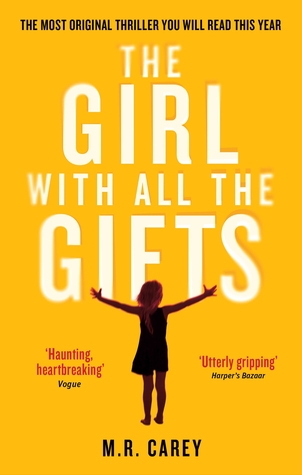 Titel:
The Girl with All the Gifts
Författare:
M.R. Carey
Serie:
-
Sidor:
460
Every morning, Melanie waits in her cell to be collected for class.

When they come for her, Sergeant Parks keeps his gun pointing at her while two of his people strap her into the wheelchair. She thinks they don't like her. She jokes that she won't bite. But they don't laugh.
Melanie is a very special girl.
Jag har velat läsa den här boken sedan jag först hörde talas om den, och baksidetexten ger knappt iväg någon information alls, vilket jag finner väldigt fascinerande. Jag hade alltså ingen aning vad det här skulle vara för sorts bok, och jag blev helt klart överraskad utav den. Men jag finner också att det är väldigt svårt att prata om den utan att avslöja något, så för er som föredrar att veta så lite som möjligt om handlingen
, råder jag att ni slutar läsa nu. Och resten av recensionen kommer att innehålla spoilers för vad boken handlar om.
The Girl with All the Gifts är alltså en post apocalyptic zombiebok, och det gjorde mig väldigt förvånad. Jag hade kanske tänkt mig att Melanie skulle ha några paranormala förmågor, men jag var inte beredd på att det skulle handla om zombies. I övrigt så gillade jag handlingen mycket, och den var ofta riktigt spännande, även om det fanns långa partier med väldigt lite action i. Det är dessutom en väldigt intressant förklaring på själva zombieproblemet, och jag uppskattar verkligen att man får flera vetenskapliga förklaringar. Jag gillar även den lilla grekiska mytologi som inblandas, och jag tyckte särskilt mycket om parallellerna med Pandoras ask och slutet.
Karaktärerna var alla väldigt intressanta, och jag gillar att man fick flera olika perspektiv på berättelsen. Mina favoriter var Melanie (självklart), och Miss Justineau. Melanie för hennes intelligens och ovilja att vara ett monster, och Miss Justineau för hennes medmänsklighet. Melanie kan i övrigt vara en av de mest intressanta och välskrivna karaktärer jag läst om, och det var helt enkelt omöjligt att inte fascineras av henne. Annars så växte Sergeant Parks hela tiden i mina ögon, och framåt slutet så tyckte jag rätt bra om honom, och Dr Caldwell var en oerhört obehaglig karaktär som jag inte kunde låta bli att hata (trots att man kan argumentera om hennes val och beteende var rätt eller fel).
The Girl with All the Gifts var en komplett överraskning, och en bok jag tyckte väldigt mycket om. Den var både skrämmande och hjärtskärande vacker, och jag absolut älskade slutet. Det är helt klart en bok jag mer än gärna rekommenderar, och den kommer att stanna i mitt minne i en lång tid framöver.
Favoritcitat:
"Melanie thinks: when your dreams come true, your true has moved. You've already stopped being the person who had the dreams, so it feels more like a weird echo of something that already happened to you a long time ago."