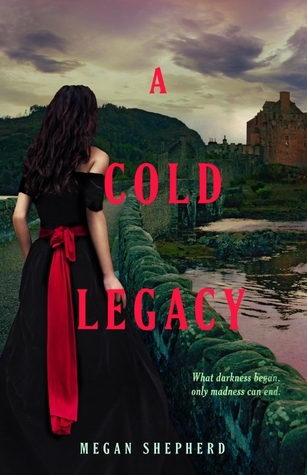 Titel:
A Cold Legacy
Författare:
Megan Shepherd
Serie:
The Madman's Daughter #3
Sidor:
388
Spoilervarning! Boken ingår i en serie, spoilers från tidigare böcker förekommer.
After killing the men who tried to steal her father's research, Juliet—along with Montgomery, Lucy, Balthazar, and a deathly ill Edward—has escaped to a remote estate on the Scottish moors. Owned by the enigmatic Elizabeth von Stein, the mansion is full of mysteries and unexplained oddities: dead bodies in the basement, secret passages, and fortune-tellers who seem to know Juliet's secrets. Though it appears to be a safe haven, Juliet fears new dangers may be present within the manor's own walls.

Then Juliet uncovers the truth about the manor's long history of scientific experimentation—and her own intended role in it—forcing her to determine where the line falls between right and wrong, life and death, magic and science, and promises and secrets. And she must decide if she'll follow her father's dark footsteps or her mother's tragic ones, or whether she'll make her own.
Den här serien är, som jag tidigare nämnt, en av mina favoriter och jag har längtat så mycket efter den här tredje och avslutande delen. A Cold Legacy var minst lika bra som sina föregångare och jag tyckte så mycket om den.
Jag är helt kär i den här blandningen av retellings och kusligheter. A Cold Legacy är inspirerad av Mary Shelley's Frankenstein, och även om jag inte läst originalet, så har jag svårt att tro att det kan bli bättre än så här. Som en avslutande del innehåller A Cold Legacy det mesta jag önskar mig av en serie, och handlingen var verkligen full av spänning, plot twister och creepiness. Språket är dessutom lika fantastiskt som vanligt, och Megan Shepherd tar en given plats bland mina favoritförfattare.
Juliet är en oerhört fascinerande karaktär, och jag har verkligen gillat att se hennes utveckling. Från svag, till galen, till att hitta sig själv, hennes resa har varit väldigt spännande, och jag är oerhört nöjd med hennes slut. Jag tycker rätt bra om både Montgomery och Edward också, och även om romansen tog en större plats här än vad den gjorde i andra boken, så är jag glad att själva triangeldelen var över. Jag är dessutom nöjd med vem Juliet valde, samtidigt som jag är glad över att de två sista böckerna lät handlingen ta större fokus än kärleken.
Slutet var både väldigt bra och aningen bittersweet. Jag är dock riktigt nöjd över det hela, och jag tycker definitivt att det gjorde serien rättvisa. A Cold Legacy var kanske den bästa boken i serien, och personligen så ser jag fram emot att läsa mer av Shepherd i framtiden. Rekommenderas varmt.