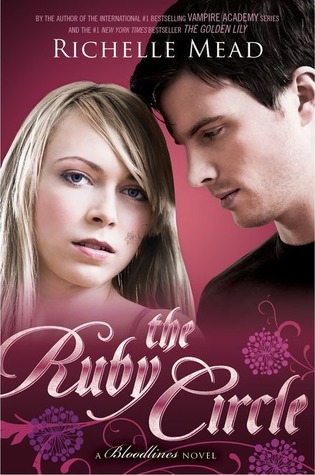 Titel:
The Ruby Circle
Författare:
Richelle Mead
Serie:
Bloodlines #6
Sidor:
348
Spoilervarning! Boken ingår i en serie, spoilers från tidigare böcker förekommer.
Sydney Sage is an Alchemist, one of a group of humans who dabble in magic and serve to bridge the worlds of humans and vampires. They protect vampire secrets—and human lives.

After their secret romance is exposed, Sydney and Adrian find themselves facing the wrath of both the Alchemists and the Moroi in this electrifying conclusion to Richelle Mead's New York Times bestselling Bloodlines series. When the life of someone they both love is put on the line, Sydney risks everything to hunt down a deadly former nemesis. Meanwhile, Adrian becomes enmeshed in a puzzle that could hold the key to a shocking secret about spirit magic, a secret that could shake the entire Moroi world.
Bloodlines är en av mina absoluta favoritserier, och jag tycker till och med mer om den än Vampire Academy. Jag har älskat serien sedan den första boken, och jag har väntat med spänning på dess avslutning. The Ruby Circle lever upp till nästan alla mina förväntningar, och det var en helt fantastisk bok som jag absolut älskade.
Handlingen är väldigt spännande, och det var så mycket jag ville skulle inträffa. Det är dock oerhört svårt att prata om den utan att spoila något, så det jag vill säga tänker jag spoilermarkera och från och med nu läser ni på egen risk;
-

Självklart så var jag orolig över var Jill var, men jag är glad att jag listade ut redan i förra boken vem som hade tagit henne. Naturligtvis så var det Alicia, men jag hade inte alls räknat med att hon skulle sluta upp hos Warriors of Light typerna, så det var lite oväntat. Jag är också oerhört glad att Jill och Eddie äntligen fick ihop det, något som vi fått vänta på tok för länge på.
-

Jag hade många förväntningar på den här boken, och jag tyckte att den levde upp till de flesta. Min högsta önskan var ju att Sydrian skulle få sitt HEA och det tyckte jag nog ändå att dem fick. Det var dock oväntat det här med Declan, och jag tyckte att det lämnade många frågor obesvarade. Jag hade också velat att man skulle fått nån sorts lösning på Strigoi problemet, och att dhampirerna äntligen skulle få sin frihet. Så jag var lite, lite besviken att inte det hände, men i övrigt så är jag mycket nöjd med allt.
spoilers slut.
Karaktärerna är ju dessutom alldeles fenomenala, och jag gillar att även gamla favoriter har en större roll i den här boken. Jag kommer att sakna Sydney, Adrian, Eddie, Rose, Dimitri, Jill mfl så himla mycket, men jag hoppas på att få återse dem någon gång i framtiden (jag tänker på Meads acknowledgements i slutet av boken)..
The Ruby Circle hade nästan allt det jag önskade mig, och som en serieavslutning är jag mer än nöjd. Det här kommer alltid att vara en av mina favoritserier, och jag kan inte rekommendera den nog.