Titel:
Shift
Författare:
Em Bailey
Serie:
-
Sidor:
304
"There were two things everyone knew about Miranda Vaile before she'd even started at our school. The first was that she had no parents - they were dead. And the second was that they were dead because Miranda had killed them."

Olive used to be the school queen-bee. But that was before her breakdown. Now she's the class loner, and can only watch as new girl Miranda latches on to Olive's ex-best friend Katie. Soon Miranda is talking like Katie, dressing like Katie - even going out with Katie's boyfriend.

And then Katie dies. Everyone seems to believe it was a tragic accident, but OIive isn't so sure. What if the wild rumours are true? What if Miranda really is a killer...?
Shift var något av en chansning från min sida, och det var kanske just därför som den blev liggandes oläst i bokhyllan i ett par år. Men nu har jag äntligen tagit tag i den, och jag är aningen osäker på var jag faktiskt tyckte. Jag gillade verkligen första halvan av boken, den var spännande och Olive var en härlig karaktär.
Tyvärr hade jag dock redan listat ut den största plot twisten i början av boken, och jag tror att jag hade tyckt mer of Shift om den hade överraskat mig istället. Andra halvan var dessutom betydligt sämre och Olive sjönk oerhört i mina ögon. Från att ha varit tuff och unik så gick hon till att göra allt dummare val som inte alls stämde in på hennes karaktär.
Slutet var lite småspännande och rätt okej, men tyvärr hade jag redan tappat intresset. Shifts första halva var riktigt bra och jag ger den ett plus för det, men sedan gick det utför och betyget landar idag på ett svagt gillar.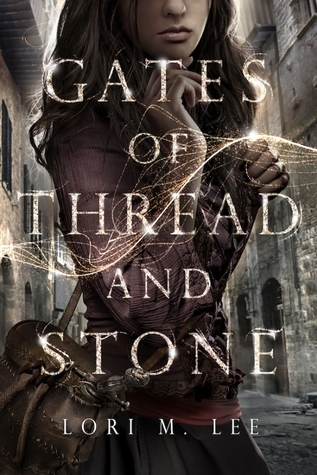 Titel:
Gates of Thread and Stone
Författare:
Lori M. Lee
Serie:
Gates of Thread and Stone #1
Sidor:
333
In a city of walls and secrets, where only one man is supposed to possess magic, seventeen-year-old Kai struggles to keep hidden her own secret—she can manipulate the threads of time. When Kai was eight, she was found by Reev on the riverbank, and her "brother" has taken care of her ever since. Kai doesn't know where her ability comes from—or where she came from. All that matters is that she and Reev stay together, and maybe one day move out of the freight container they call home, away from the metal walls of the Labyrinth. Kai's only friend is Avan, the shopkeeper's son with the scandalous reputation that both frightens and intrigues her.

Then Reev disappears. When keeping silent and safe means losing him forever, Kai vows to do whatever it takes to find him. She will leave the only home she's ever known and risk getting caught up in a revolution centuries in the making. But to save Reev, Kai must unravel the threads of her past and face shocking truths about her brother, her friendship with Avan, and her unique power.
Den största anledningen till att jag ville ha den här boken är dess omslag. Jag menar, kolla bara så fint det är. Själva boken var också riktigt bra, även om jag hade några små problem med den. Jag är lite osäker på vad jag skulle klassifiera Gates of Thread and Stone som, men mestadels är det en fantasybok. Den var för det mesta väldigt spännande, men vad jag saknade oerhört var bakgrundsförklaringar. Jag vet inte om boken utspelar sig i ett påhittat land, eller om det är i våran värld. Är det dåtid, nutid, eller framtid?
Och varför får man inte veta själva händelserna som lett till att världen ser ut som den gör? Många obesvarade frågor, som jag verkligen hoppas på att få svar på i nästa bok.
Trots dålig bakgrund så var det ändå något med Gates of Thread and Stone som trollband mig, och den var nästan omöjlig att sluta läsa. Karaktärerna var helt okej, men inga nya favoriter trots att jag var så investerad i deras historia. Det finns mycket att klaga på hos Gates of Thread and Stone, men samtidigt var den riktigt bra, och jag älskade slutet. Jag tänker självklart läsa fortsättningen, och rekommenderar gärna boken till dig som kan ha överseende med bakgrundsförklaringarna.