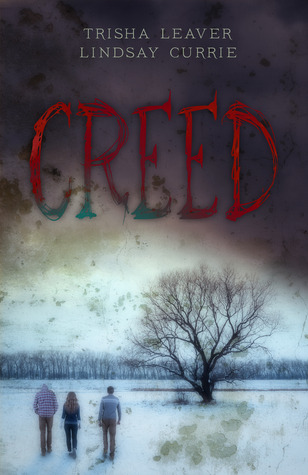 Titel:
Creed
Författare:
Trisha Leaver & Lindsay Currie
Serie:
-
Sidor:
253
Three went in. Three came out. None even a shadow of who they once were.

When their car breaks down, Dee, her boyfriend Luke, and his brother Mike walk through a winter storm to take refuge in a nearby town called Purity Springs. When they arrive, the emergency sirens are blaring and the small farming town seems abandoned. With no other shelter, they spend the night in an empty house.

But they soon discover that not everything in Purity Springs is as it seems. When the town's inhabitants suddenly appear the next morning, Dee, Luke, and Mike find themselves at the mercy of the charismatic leader, Elijah Hawkins, who has his own plans for the three of them. Elijah's son, Joseph, offers to help them escape . . . but the price of his help may be more than Dee and her friends can bear.
Jag hade faktiskt ingen aning vad jag hade att förvänta mig av Creed. Det enda jag hade läst av beskrivningen var den första meningen,
Three went in. Three came out. None even a shadow of who they once were
, och det var tillräckligt för att väcka mitt intresse. En riktig chansning alltså, men som tur är så tyckte jag, för det mesta, riktigt bra om boken.
Eftersom jag gillar skräckfilmer och att bli skrämd så var Creed ganska så rätt för mig. Handlingen var både skrämmande och obehaglig, och den påminde mig om att det mänskliga psyket kan vara oerhört otäckt. Jag vill inte säga så mycket mer om handlingen i risk för spoilers, men jag fann Creed att vara en riktigt psykiskt påfrestande bok.
Karaktärerna var dock bokens allra svagaste sida, och jag fastnade inte för någon utav dem. Huvudpersonen Dee var inte direkt den vassaste kniven i besticklådan, och hon var ofta både idiotisk och ologisk. Jag förstod inte eller riktigt varför man valde att hon skulle vara, markera för spoilers -->

ett fosterbarn som blivit misshandlad

, spoilers slut, för det tillförde inget till handlingen. Jag menar, jag förstår att man kan vara "skadad", men i Dees fall så kändes det inte det minsta äkta. Av de övriga karaktärerna så lär man aldrig känna Mike och Luke, jag hade svårt att första mig på Joseph, och Elijah var så fruktansvärt obehaglig att han var den enda som kändes genuin.
Slutet var något av en anti-klimax, och jag hade nog hoppats på något mer. Själva händelserna fram till epilogen var bra, men sedan blev det för abrupt och jag har fortfarande frågor jag vill ha svar på.
Jag tror inte att Creed är en bok för alla, men för er som gillar psykologiska thrillers/skräckfilmer så kan jag gärna rekommendera den. Lite för kort och dåliga karaktärer, men med en handling som väger upp så blev den ändå till sist en riktigt bra läsupplevelse.