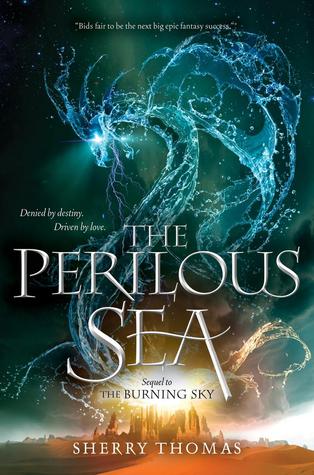 Titel:
The Perilous Sea
Författare:
Sherry Thomas
Serie:
The Elemental Trilogy #2
Sidor:
425
Spoilervarning! Boken ingår i en serie, spoilers från tidigare böcker förekommer.
After spending the summer away from each other, Titus and Iolanthe (still disguised as Archer Fairfax) are eager to return to Eton College to resume their training to fight the Bane. Although no longer bound to Titus by a blood oath, Iolanthe is more committed than ever to fulfilling her destiny—especially with the agents of Atlantis quickly closing in.

Soon after arriving at school, though, Titus makes a shocking discovery, one that makes him question everything he previously believed about their mission. Faced with this devastating realization, Iolanthe is forced to come to terms with her new role, while Titus must choose between following his mother's prophecies—and forging a divergent path to an unknowable future.
Första boken i den här serien, The Burning Sky, var en väldigt positiv överraskning för mig, och jag hade inte alls förväntat mig att den skulle vara så bra. Jag räknade ner dagarna tills fortsättningen, The Perilous Sea, skulle släppas, men trots det blev den liggande oläst i bokhyllan i flera månader. Nu har jag dock äntligen läst den, och fann att den var minst lika bra som sin föregångare
, och jag ångrar att jag inte plockat upp den tidigare.
Handlingen var superspännande, och i The Perilous Sea får man följa Iolanthe och Titus i två olika tidsperioder. I den ena är de tillbaka på Eton och Titus stöter på en chockerande ny utveckling. I den andra så har båda tappat sina minnen och är på flykt från Atlantis. Det hela var bara så spännande, och det var nästan omöjligt att sluta läsa eftersom jag desperat ville veta vad som orsakat minnesförlusten. Den här serien är dessutom en underbar blandning av high fantasy och 1800-talets England, och jag är mäkta imponerad över hur författaren får allt att kännas så självklart.
Karaktärerna är helt fenomenala, och jag absolut älskar både Iolanthe och Titus. De är helt perfekta tillsammans, och deras relation är både äkta och fin. Trots att deras värld vänds upp och ner, så står de vid varandras sida, och det finns inte många som jag tycker hör ihop mer i dagsläget.
The Perilous Sea är minst lika bra som The Burning Sky, och slutet var helt fantastiskt. Jag kan knappt vänta på att den avslutande delen ska komma ut, och det här är en serie jag mer än gärna rekommenderar till alla fantasyälskare.
Favoritcitat:
"They all three threw up shields at the same time, Titus for Iolanthe, Iolanthe for Titus, and Lady Wintervale for them both."