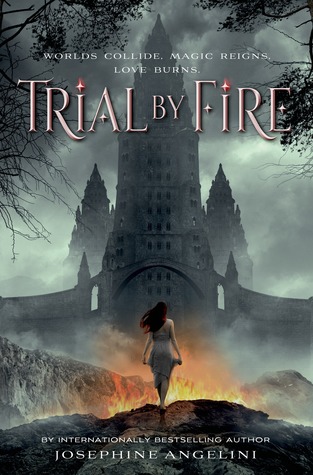 Titel:
Trial by Fire
Författare:
Josephine Angelini
Serie:
The Worldwalker Trilogy #1
Sidor:
374
This world is trying to kill Lily Proctor. Her life-threatening allergies keep her from enjoying experiences that others in her hometown of Salem take for granted, which is why she is determined to enjoy her first high school party with her best friend and longtime crush, Tristan. But after a humiliating incident in front of half her graduating class, Lily wishes she could just disappear.

Suddenly, Lily is in a different Salem—one overrun with horrifying creatures and ruled by powerful women called Crucibles. Strongest and cruelest of them all is Lillian . . . Lily's other self in this alternate universe.

What makes Lily weak at home is what makes her extraordinary in New Salem. In this confusing world, Lily is torn between responsibilities she can't hope to shoulder alone and a love she never expected.
Trial by Fire hamnade på min att läsa lista så fort jag hörde talas om den, och den var ett av mina mest efterlängtade boksläpp förra året. Men trots det så blev den liggande oläst i bokhyllan fram tills nu, och det ångrar jag lite eftersom det här var en riktigt bra bok.
Handlingen var spännande, mysig och full av magi, även om den samtidigt var lite långsam emellanåt. Jag gillade början av boken, men tyckte ändå att den steg till en helt annan nivå efter att Lily "bytt värld". Det var dessutom intressant att se likheterna mellan magi och naturvetenskap, och jag tycker att Angelini har gjort ett utomordentligt jobb både när det gäller förklaringar och världsuppbyggnad. Så stort plus för det.
Karaktärerna var alla väldigt bra och jag gillade de flesta. Lily var min favorit, hon var både smart och kapabel och ett nöje att följa. Rowan störde jag mig på i början, men han blev bättre och bättre och framåt slutet så shippade jag han och Lily så mycket. Jag tyckte även bra om Tristan (dock inte den första), Caleb och Juliet. Den mest intressanta karaktären var dock Lillian, och jag önskar så att man fått lära känna henne bättre.
Slutet lämnades i en enorm cliffhanger, så jag är samtidigt glad över att jag väntade så länge med att läsa boken för just nu håller jag på att längta halvt ihjäl mig efter fortsättningen. Trial by Fire var en oerhört bra bok, och även om den inte riktigt når favoritstatus idag, så har jag höga förhoppningar för resten av trilogin. Rekommenderas varmt.